Mac OS X Snow Leopard 10.6.9 to Bring iCloud Support?
Apple appears to be preparing a 10.6.9 update to Mac OS X Snow Leopard in order to provide compatibility with the company's upcoming iCloud service. The following notice appeared in one developer's .Mac preference pane in Tiger after he had upgraded his MobileMe account to iCloud.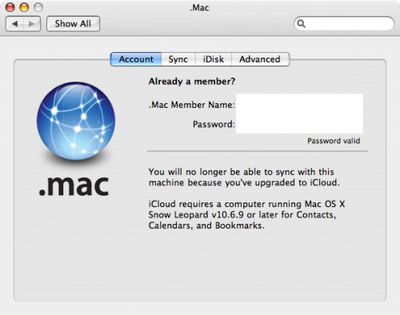 According to the notice, users will have to upgrade to a minimum of an as-yet unreleased Mac OS X 10.6.9 in order to sync select content via iCloud.
You will no longer be able to sync with this machine because you've upgraded to iCloud.

iCloud requires a computer running Mac OS X Snow Leopard v10.6.9 or later for Contacts, Calendars, and Bookmarks.
Apple so far has only been testing iCloud for OS X Lion with developers, regularly pushing out new builds of OS X 10.7.2, iCloud software and Photo Stream-enabled iPhoto 9.2 as it moves toward a public launch of iCloud.
Apple has been quiet about absolute minimum system requirements for iCloud, although it notes on its promotional pages that some features will require OS X Lion.
Some features of iCloud require iOS 5 on iPhone 3GS, iPhone 4, iPod touch (3rd and 4th generation), iPad, or iPad 2, or a Mac computer with OS X Lion or a PC with Windows Vista or Windows 7 (Outlook 2007 or 2010 recommended).
Apple has already confirmed that syncing of Mac Dashboard widgets, keychains, Dock items, and System Preferences are not making the transition from MobileMe to iCloud for any users, but if the alert notice being delivered to iCloud users on Mac OS X Tiger is correct, it seems that at least minimal iCloud functionality may be coming to Mac OS X Snow Leopard in the form of a full maintenance release.