Apple Seeds OS X Lion 10.7.2 Build 11C43 and Other iCloud Updates to Developers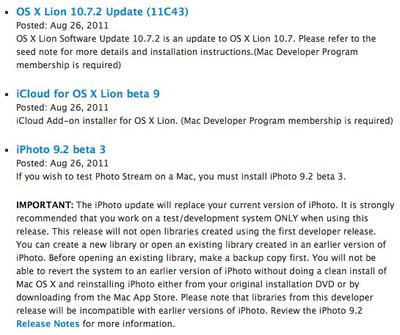 Apple today pushed out several new developer seeds for its OS X platform, continuing to move forward with testing of iCloud. The updates come one week after the previous seeds, which also came alongside the sixth beta version of iOS 5. Among today's new releases for OS X:
- OS X Lion 10.7.2 Update (Build 11C43)
- iCloud for Lion beta 9
- iPhoto 9.2 beta 3
The new OS X Lion 10.7.2 build continues to list no known issues and asks developers to focus their testing on AirPort, AppKit, GraphicsDrivers, iCal, iChat, Mac App Store, Mail, Spotlight, and Time Machine.
There are no new updates posted on the iOS side at this time.
Apple has announced that it will be launching iOS 5 and iCloud this fall. The company has been rumored to be launching new iPhone hardware in early-to-mid October, and iOS 5 and iCloud should be going live right around that same time. Apple will almost certainly be holding a media event a week or two ahead of that launch to introduce the new hardware and give final details on iOS 5 and iCloud.
Thanks, Chanyoon!