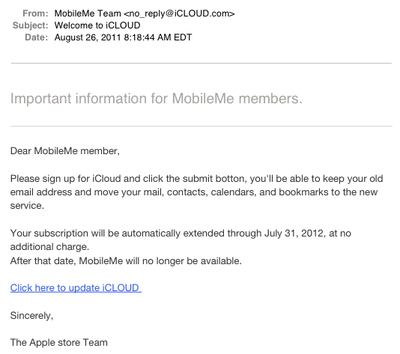 A number of MacRumors readers have reported today receiving a phishing email designed to look like a notice from Apple asking users to upgrade their MobileMe accounts to iCloud. The email is patterned after one sent to MobileMe members in early June just after Apple introduced iCloud at its Worldwide Developers Conference.
Dear MobileMe member,

Please sign up for iCloud and click the submit botton, you'll be able to keep your old
email address and move your mail, contacts, calendars, and bookmarks to the new service.

Your subscription will be automatically extended through July 31, 2012, at no additional charge.
After that date, MobileMe will no longer be available.

Click here to update iCLOUD

Sincerely,

The Apple store Team
Clicking on the included link to update to "iCLOUD" takes users to a page mimicking portions of Apple's page for updating account billing information, asking users to enter their credit card, address, and Apple Store account details.


Phishing emails riding on Apple's popularity are nothing new, with scammers attempting to prey on users' excitement for such products as the iPhone 5. This latest phishing email targeting MobileMe and iCloud is not a particularly sophisticated one, but it appears to be a widespread effort given the number of reports we've received about it in just the last few hours.