Phishing and Malware Emails Posing as Apple and the iPhone 5 Launch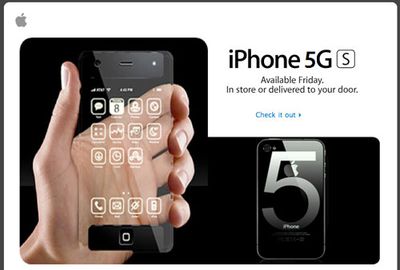 We've received a number of warnings from readers over the last couple of weeks about fraudulent emails that look a lot like official Apple emails. These emails are structured just like Apple's promotional emails, but are actually attempts to lure unsuspecting customers into entering their Apple IDs and other personal information. Such so called "phishing" attempts are common and readers should be wary about following links from any emails.
What caught our eye is that the latest round of these fraudulent emails are actually leveraging the hype around the next generation iPhone. The latest email (pictured above) passes itself off as an Apple launch email for the iPhone 5. (Full size). It cobbles together various photos from the internet and entices users to click on "Learn More". The learn more link, however, links to a Windows executable which we presume to be malware (virus, trojan, keylogger, etc...), so readers are warned to avoid clicking on any links from these emails.

Reports of compromised App Store and Apple ID accounts have generated a lot of press in the past due to the scale of the iTunes Stores. It was believed that account details were stolen using these sort of techniques rather than any sort of vulnerability in iTunes itself.
Another example of a fraudulent email: