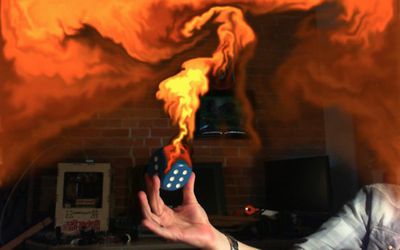 Autodesk just released Motion FX, a nifty app that lets users apply dozens of real-time effects to videos, like smoke, fire or rainbow plasma. The software grabs live video, either from the Mac's built-in iSight or FaceTime camera, or via an external camera. Motion FX does the rest.

Simply select your favorite preset effect, and create an incredible visual experience by moving in front of your computer's camera. A preset cycling mode lets you automatically cycle through effects without lifting a finger. You can also use the Face Tracking technology of OS X Lion to emit effects from any faces visible to your camera.
Motion FX applies real-time fluid dynamics technology from Autodesk's
Maya
visual effects and compositing software. There are five different video modes:
- Motion Detect: Effects are created based on motion detected by your computer's camera
- Face Detect: Emit effects from all visible faces
- Color Detect: Choose the color to emit effects from the video feed
- Effect Paint: Paint effects using your mouse or trackpad
- Video Warp: Warp live video using your mouse or trackpad
The Mac team at Autodesk has been very busy lately, last week introducing new versions of AutoCAD LT and its flagship AutoCAD product for Mac, including offering AutoCAD LT on the Mac App Store for $899.99.
Motion FX is available free on the Mac App Store. [Direct Link]