Autodesk Releases AutoCAD LT on Mac App Store
After a more than 15-year absence from the Mac, Autodesk released AutoCAD for Mac last year. Today, Autodesk released AutoCAD LT 2012, the "lite" version of AutoCAD, on the Mac App Store for $899.99. The company also announced a new version of its flagship AutoCAD for Mac software, and AutoCAD WS mobile product.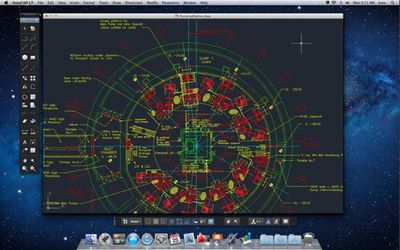 Autodesk is the first third-party developer to launch a high-end product on the Mac App Store, and hand over 30 percent of its software revenue to Apple -- a controversial move to some, but Autodesk isn't concerned. Amar Hanspal, Autodesk's senior vice president for platform solutions and emerging business, told the Wall Street Journal that Apple is "acting as an agent for us" and is "commercially rewarded for doing that."
Autodesk's full-featured flagship AutoCAD for Mac product, which retails for $3,995, will not be sold through the Mac App Store. Hanspal noted "there is a price level you cannot exceed" at the online store -- Apple's maximum price for any App Store application is $999.99.

"Since the release of AutoCAD for Mac last year, customer feedback has been overwhelmingly positive, further validating the need for professional design and engineering software on the Mac platform," said Amar Hanspal, senior vice president, Autodesk Platform Solutions and Emerging Business. "Bringing AutoCAD LT and AutoCAD WS to the Mac shows our continued commitment to making design more accessible for an ever-greater number of people to shape the world around them."

AutoCAD for Mac 2012 software includes familiar AutoCAD capabilities, such as 2D and 3D design tools, and includes 3D free-form modeling capabilities; 3D visualization and rendering; network licensing; advanced customization of the menus; support for LISP and ObjectARX and ObjectDBX applications; and more. AutoCAD LT for Mac follows common native Mac application user interface guidelines, with a familiar Apple menu bar together with a number of workflow-based palettes. AutoCAD LT for Mac also supports native Mac OS X behavior, including Cover Flow navigation and Multi-Touch gestures.

AutoCAD LT for Mac is perfectly suited for designers, architects and engineers who prefer to work in a native Mac environment and need to create, edit or review designs, technical drawings and documentation.
AutoCAD LT 2012 is available for $899.99 on the Mac App Store. AutoCAD for Mac 2012 is $3,995 and purchasing options are available through Autodesk.