Apple Tops U.S. Retail Chains in Sales Per Square Foot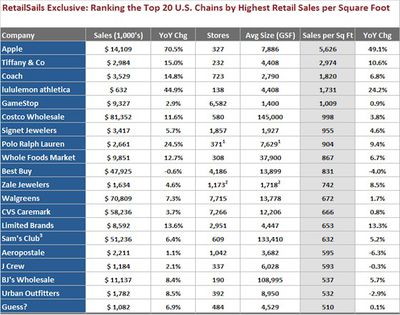 RetailSails compiles (via 9to5Mac) a list of the top 20 U.S. retail store chains, revealing that Apple easily leads the pack with sales of well over $5,000 per square foot. Second-place Tiffany & Co. came in well behind at under $3,000 per square foot.
It's not surprising Apple leads the pack, as there have been numerous articles such as this, but it is quite shocking by how far ahead of the competition they are, especially considering the company only has 10 years of retail experience.
RetailSails' report analyzed over 160 U.S.-based retail companies, reporting sales information and calculated sales per square foot on a global basis.
Some of Apple's flagship locations understandably generate sales significantly above the average, with performance at the company's Fifth Avenue store in Manhattan being pegged at approximately $35,000 per square foot several years ago.