Apple's Glass Roofed Retail Store Approved Without Even Discussion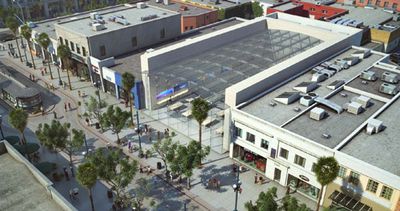 The Santa Monica Dispatch's Peggy Clifford attended yesterday's Santa Monica Planning Commission meeting and reports that Apple's new Third Street Promenade building was quickly approved, without even discussion.
The surprise was that the staff put the project on the Consent Calendar. I cannot remember any large, complex commercial project ever going on the Consent Calendar. Apple was the only item on last night's Calendar. And, under the rules, the Consent Calendar is approved as a whole – unless someone wishes to pull at item for discussion.

And in that crucial blink, the commissioners approved the Consent Calendar (aka Apple Glass House), and that was that – except for a staff report on the redesign of the Project Case List, after which they adjourned.
The proposal first came to light yesterday, and detailed a new 8,084 glass-roofed Apple Store to be built on the Third Street Promenade in Santa Monica, California. The store will be built in the space of an old Borders Bookstore.