FOSS Patents reports on news from the German media indicating that enforcement of the preliminary injunction barring Samsung from selling the Galaxy Tab 10.1 anywhere in the European Union outside of the Netherlands has been temporarily suspended in all affected countries other than Germany.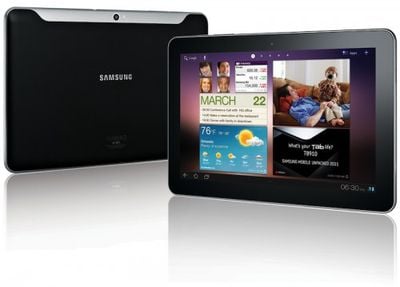 The temporary suspension, which is in effect until a previously-scheduled hearing set for August 25th, appears to be the result of questions over the German court's authority to ban sales by the Samsung's parent company based in Korea throughout the European Union.
The injunction was issued against both the Korean parent company and its German subsidiary, and there is some legal ambiguity as to whether the parent company should be considered to have an "establishment" in Germany and thus be subject to such international injunctions. If Samsung Korea is determined to not have an establishment in Germany, Apple's case for an international injunction against the company would be required to go through specific courts in Alicante, Spain.
The Apple-Samsung dispute made news yesterday when it was revealed that one of the exhibits presented by Apple as part of its case used an incorrect or outdated depiction of the Galaxy Tab 10.1 that made Samsung's tablet appear more similar in appearance to the iPad 2 than it actually is. Today's suspension of the injunction is not related to that discovery.