Apple's Low-Cost iPhone to be an 'iCloud' iPhone?
Tying together a series of earlier rumors, AppleNApps claims that Apple is planning to introduce a new low-cost iPhone in the coming months that will contain significantly reduced onboard storage and instead rely primarily on streaming content from the company's new iCloud service. The device is said to be referred to internally as the "iCloud iPhone".
We have three independent sources contributing to this report who are all connected to Apple in different capacities. The main takeaway is that Apple intends to launch two iPhone models in the fall with a full upgraded iPhone 5 as expected, as well as a cheaper iPhone which will be the iCloud iPhone.
According to the report, the iPhone 5 will indeed appear in a thinner form factor carrying the A5 chip that debuted in the iPad 2 earlier this year. But the iCloud iPhone will rely on many of the components currently used in the iPhone 4 and offer only a bare minimum of onboard storage in order to drop pricing to $400 off-contract or free with a two-year contract.
One of our contacts is familiar with the design of the iPhone 4, and says that Apple is cutting the cost of making an iPhone 4 without sacrificing any of its qualities. The main cost cutting will come from Apple reducing on board storage, using a smoother yet cheaper aluminum back and siding, and already having a majority of the supplies on hand. The result will be a cloud based iPhone experience that is unique in the market that will be accessible to a large percentage of users because of the price point.
Rumors of a low-cost iPhone have been circulating for quite some time, and claims of a smaller, cheaper iPhone relying on cloud streaming instead on onboard storage appeared earlier this year.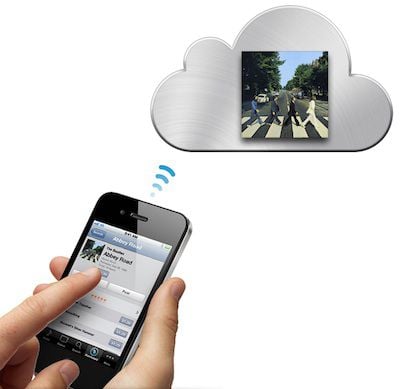 One potential flaw in the idea that Apple will be introducing a cloud-based iPhone in the near future is related to Apple's implementation of iCloud, which is much more of a syncing service than a streaming service. Apple has presented iCloud as a distributed system in which a master copy of any given file resides in the cloud but is also duplicated on each device and kept in sync with that master copy, which itself can be updated based on changes made on any associated device.
The vision of a cloud-based iPhone with little onboard storage would require that that master copy be passed down to the device only as needed, functionality that Apple has not yet shown with iCloud and iOS 5. Aside from any technical considerations for the streaming model, such an arrangement would put significant strain on wireless carriers charged with moving that data down from the cloud every time it is needed.
AppleNApps is a relatively new site which does not yet have a significant track record when it comes to Apple rumors, although it was only off by a day in its predictions of a release for OS X Lion and revised MacBook Air models.