Amazon Launches a Web-Based iPad Kindle Reader
Amazon has quietly launched a new web app called "Kindle Cloud Reader" that allows Chrome and Safari users to access their Kindle eBooks through their browsers. The Cloud Reader also supports the iPad version of Safari, giving Amazon a workaround to Apple's new subscription rules requiring any in-app sales to go through Apple's purchasing system.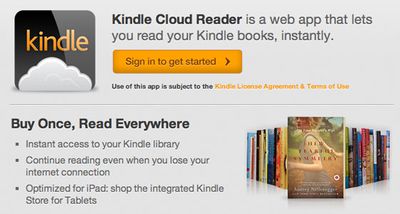 As noted by TechCrunch, the new system is already live at http://read.amazon.com and works quite well on the iPad:
The iPad version is especially good because the store is fully optimized for the device. And you can easily switch back and forth between the store and your own library. It feels like a native app, but it's not.
The web app even supports local storage so that you can read your Kindle books even without a web connection.
Apple has been at odds with many content providers after implementing their new subscription rules preventing native iOS app publishers from selling content outside of Apple's own in-app system. Amazon complied with the rules by removing the Kindle Store button from their native application, but for the iPad now has this web-based option that does directly integrate with their sales system.