Amazon's 'Kindle' App Updated to Remove Direct Kindle Store Links [Updated: Nook]
Following reports that The Wall Street Journal and eBook company Kobo have pulled direct content sales from their iOS apps in order to comply with Apple's new rules regarding in-app subscriptions and purchases, Amazon has followed suit with an update to its Kindle app for iOS.
What's new

- This update removes the Kindle Store button from the app.
While the Kindle app has always redirected users to a Safari web app for purchasing, it has until now prominently featured a button to allow users to quickly navigate to the store from the app. Users will now have to manually load the store in Safari when they wish to purchase new content.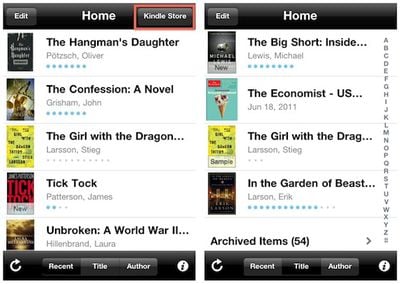 Kindle app before (left) and after (right) update
Amazon has attempted to soften the blow of the new inconvenience for getting to the Kindle Store by enhancing support for newspapers and magazines on the iOS app. Users can now read over 100 newspapers and magazines through the app after subscribing via the Kindle Store website. Kindle users who are already subscribed to newspapers and magazines can now quickly access the content on their iOS devices via the "Archived Items" section.
Given the number of apps that have been updated or removed to address Apple's in-app subscription and purchases policy, it certainly appears that Apple has finally closed the door and begun enforcing the new rules that were to have gone into effect on June 30th.
Update: Barnes & Noble's NOOK app has also seen its "Shop" button removed in an update today.
You can read any NOOK Book you have purchased on this updated NOOK for iPhone app, however the Shop link has been removed so to buy NOOK Books from your iPhone, open your Safari browser and go to nookbooks.com.