Apple Set to Open Five New Retail Stores on Saturday
A couple of weeks ago, we noted that Apple was apparently set to open over 30 new retail stores over the following two months, pushing the company's total to over 360 by the end of September. While Apple has opened a couple of stores since that time, including a new Glendale, California store just 500 feet from an existing location, things now appear to be getting into full swing with Apple apparently set to open at least five new stores this Saturday.
The total includes two U.S. stores and three international locations covering Australia, Canada, and Italy, and represents the largest batch of store openings since Apple opened seven stores on September 25th of last year.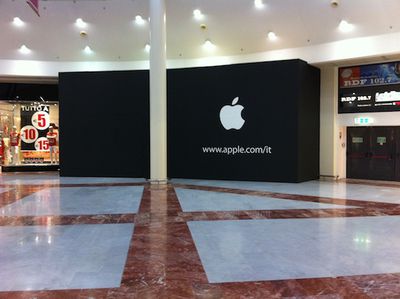 Apple's I Gigli retail store in Florence, Italy (Source: iPhone Italia)
-
Anchorage 5th Avenue Mall
(Anchorage, Alaska): The new store will be Apple's first location in Alaska.
- Fashion Place (Murray, Utah): Apple's second store in Utah, the new store covers the southern suburban stretch of Salt Lake City suburbs to complement the company's existing store at The Gateway in downtown Salt Lake City.
- Southland (Cheltenham, Victoria, Australia): The new store is Apple's third location in the Melbourne area and its twelfth overall for Australia.
- Conestoga: (Waterloo, Ontario, Canada): Apple's 20th retail store in Canada, the new location is also notable for its placement in the hometown of smartphone competitor Research in Motion.
- I Gigli: (Florence, Italy): The new store is Apple's sixth location in Italy and first in the Florence area, filling a gap between the company's store in Rome and a series of stores in northern Italy across the Turin, Milan, and Bergamo.
The new openings come as Apple continues to push forward with construction on a number of other stores, as well as renovations and expansions of some of its existing stores. The company is also notably undertaking an upgrade of the plaza and glass cube at its flagship Fifth Avenue store in Manhattan. Earlier today, we reported that Apple has released details on the cube's revamp, which will see the original design of 90 panes of glass replaced with a new version using only 15 panes of seamless glass.