Apple Set to Open 33 New Retail Stores Over Next Two Months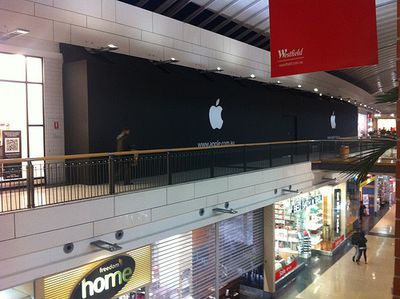 Apple Store in Penrith, Australia (Source:
Flickr
)
In association with the opening of Apple's new
Penrith
store outside of Sydney, Australia this weekend,
Current.com.au reports
(
via The Next Web
) that Apple press representatives have apparently noted that the company is planning to open a remarkable 33 stores over the next two months. With the retail push, Apple will move from its current total of 330 locations to 363 stores by the end of fiscal 2011 in late September, a pace that works out to nearly one opening every two days. According to the Apple spokesperson:
"Our retail offering continues to [grow], with Penrith the 11th store in Australia, since we opened Apple Store Sydney just three years ago. Globally we are planning to have 363 stores in fiscal 2011."
The report also notes that Apple's retail stores have now seen over one billion visitors pass through their doors.
"Apple Retail has been in business for 10 years. During this period, we have had over 1 billion visitors through our doors, many of whom are new to the Mac, as the Apple Store is the best place to learn about all the latest products from Apple," said the spokesperson.
That milestone was actually passed earlier this year, as Apple Chief Financial Officer Peter Oppenheimer noted during the company's April 20th earnings conference call that Apple's retail stores would greet their billionth visitor within the following few days.