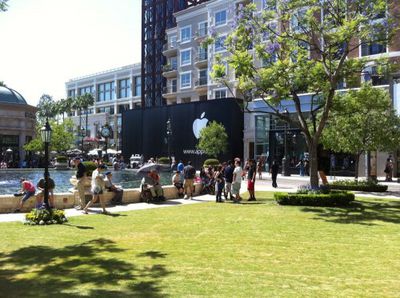 Apple's newest Retail Store is opening on Saturday in Glendale, California. The awkwardly named Apple Store, The Americana At Brand is located something like 500 feet from the Glendale Galleria, home of store R001.
The Glendale Galleria location opened on May 19, 2001 and was the second Apple Retail Store to open, as Tysons Corner opened earlier that day on the East Coast.
Gary Allen at IFOAppleStore notes that the Glendale Galleria location is "packed at all times" and the sister location is welcome. Gary also reports that the Palo Alto and Stanford stores are the next closest store pair, at a mere 3,737 feet apart.


The Americana location is numbered R451. It is the 239th US store and the 332nd store worldwide.
Apple numbers stores in the order in which they are planned. A number of stores were planned but have never been built for some reason. This is why the store is numbered R451 but there are only 332 stores in the chain, so far. R037 is the lowest number without a store attached.
The store will open at 10AM local time on Saturday, July 30.
(Photo courtesy TUAW)