The new Mac Minis launched last month showed significant performance gains in the benchmarks, easily outpacing the prior models. Teardowns showed how easy it would be to install a second hard drive. For $1400, owners can upgrade their Minis to 16GB of RAM.
Now, Other World Computing has installed a couple of their OWC Mercury EXTREME 6G SSD drives in their 2011 Mac Mini and achieved some significant speed boosts.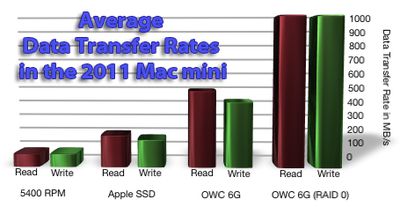 The chart above shows the average read/write speeds as reported by QuickBench in four increasingly beneficial drive configurations in our 2.5GHz Intel Core i5 Mac mini (RAID 0 configuration results obtained from a 2.0GHz Intel Core i7 Mac mini Server as that is the only machine that comes factory stock with two available drive ports.)
Here's the breakdown:

- "With the factory stock 5400RPM hard drive, which is what most people are used to computing with, the Mac mini goes pretty fast achieving read/write speeds around 86MB/s – consistently above the maximum rated 80MB/s of an external FireWire 800 connection."

- "Apple does offer their own 256GB SSD option (a $600 add-on which isn't available on the 2.3GHz base model) which boosts the average speed to an impressive 210MB/s read and 182MB/s write."

- "There's just no substitute for a SATA Revision 3.0 capable SSD such as the OWC Mercury EXTREME 6G SSD. The speeds are well over twice as fast boasting 506MB/s read speeds and 432MB/s write speeds from a single drive!"

- "We tested two OWC Mercury EXTREME 6G SSD in a RAID 0 configuration (on the server model of Mac mini – again we're looking into how to get a second hard drive into the consumer model, but that will be another blog post down the road after we figure it all out) we got Thunderbolt-saturating speeds averaging 995MB/s and 994MB/s for read and write speeds respectively."
For users looking to upgrade their 2011 Mac Mini as much as possible, replacing the internal HDD with a SSD looks to be a good -- albeit not cheap -- first step.