Mac Mini Teardown Reveals Potential for User-Installable Second Hard Drive
Just like the MacBook Air yesterday, iFixit has also conducted a teardown of the new Mac mini. While the internals are very similar to the previous generation, the teardown does reveal that users may be able to install a second hard drive on their own if a proper cable can be found.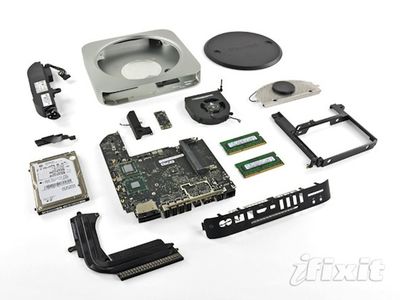 The possibility of adding a second hard drive is made possible by Apple's removal of the optical drive from all models of the Mac mini, leaving enough space for a traditional hard drive or solid-state drive to be installed. From iFixit's blog post on the teardown:
Apple has done away with the optical drive and replaced it with some good old-fashioned emptiness. We found that hole (as well as the empty extra SATA connection on the logic board) to be perfect for adding a secondary hard drive — essentially bypassing the $400 premium over the "server" model. The only snag in this master plan is being able to find another hard drive cable to hook it up to the logic board, something we'll work on sourcing.
Apple of course already offers the option of two hard drives on the server model of the Mac mini, although that model also brings other upgrades including a quad-core Intel Core i7 processor that push the price to $999, a $400 premium over the entry-level model.
With the Mac mini being relatively easy to open up and service, users looking to add a second hard drive to their Mac mini without going all in on the server model may in fact be able to do so, provided that an appropriate hard drive cable can be found for purchase.
Like the new MacBook Air, the revised Mac mini also includes a new Bluetooth 4.0 chip and Thunderbolt capabilities, as well as some other minor updates to components