After the release of the purported iPhone 5 design document, we've received a couple of mockups what the iPhone 5 might look like. While we don't normally indulge the purely speculative mockups, the recent rumors have given us some guidance as what the iPhone 5 might look like.
The first comes from MacRumors user bikr who we asked to try to closely approximate the leaked document, with a tapered design and elongated home button.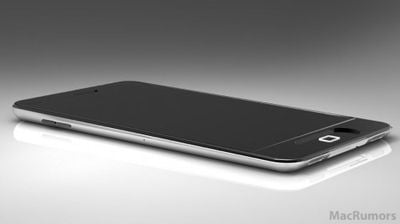 The design has a slightly sloping taper to it from top to bottom, reminiscent of the MacBook Air.
Meanwhile, CiccareseDesign has created their own mockup but was a little more free with their design choices. They retained the top-to-bottom taper, but ignored some of the other elements. They call this the "iPhone Air".


A few of the other images show that the designer took some liberties, retaining the squared off design of the iPhone 4. Obviously, this is not likely to be predictive of what the actual iPhone 5 might look like.