Apple's Existing Mac Lines Tweaked for OS X Lion
While Apple released new MacBook Air and Mac mini models alongside OS X Lion last week, the company also updated its other Mac lines to begin shipping them with Lion. But Apple changed a bit more than just the operating system on those models, as MacTrast details with a comparison of a new MacBook Pro with Lion pre-installed to another MacBook Pro purchased just a few months ago.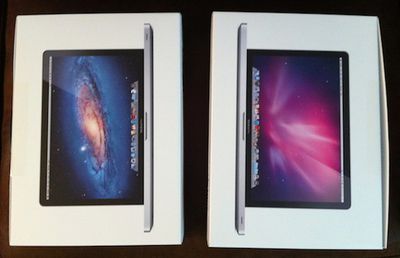 The difference between the two versions is immediately obvious from the product packaging, as the artwork now shows a machine with the OS X Lion default desktop image rather than the Mac OS X Snow Leopard one. Apple has also tweaked part numbers and manuals to reflect the change to Lion.
And, as seen in Apple's standalone keyboards, the company has also quietly tweaked the MacBook Pro's keyboard to convert the F3 key's function from Exposé to Mission Control and the F4 key's function from Dashboard to Launchpad.
Finally, Apple no longer includes restore discs of any sort, a move that could cause difficulties for the occasional user who finds the need or desire to perform a clean install of Lion on a bare hard drive. Apple's new MacBook Air and Mac mini models support a Lion feature called Internet Recovery that allows the operating system to be reinstalled to a bare hard drive, but other current hardware now shipping with Lion does not support the feature.
For its part, Apple does not consider hard drives to be user-replaceable components on most machines and would expect users experiencing failures of their hard drives to go through Apple for replacement during the one-year warranty period, under which circumstances Apple would of course provide a replacement drive with Lion installed. But for other circumstances, Apple has clearly made it difficult for users to perform clean installs of OS X Lion on new hard drives on their own. The Lion USB thumb drive set to debut next month will offer one solution for the problem, but represents a separate $69 purchase for users who are already licensed to use Lion through their machine purchases.