Early Benchmarks Reveal New MacBook Air Rivaling High-End 2010 MacBook Pro
Electricpig reports that early benchmarking data obtained by Laptopmag.com from Apple's new MacBook Air models released today demonstrate significant performance improvements over the previous generation and even other Apple notebooks. Testing was performed using the Geekbench benchmarking tools.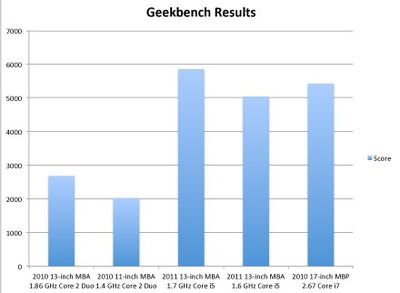 According to the report, not only do the new MacBook Air models at least double the scores of the previous generation in testing with Geekbench, but the new machines also compare extremely favorably to even high-end MacBook Pro models from last year.
The new 13-inch MacBook Air earned a Geekbench score of 5860, a bump in performance of over 100 percent compared to last year's model. The 11-inch MacBook Air was even more impressive, skyrocketing from 2024 to 5040 for 149 percent increase.

To put these benchmarks into perspective, the 2010 17-inch 2.67 GHz Core i7 MacBook Pro scored 5423. For £849 the 11-inch MacBook Air offers a benchmark on par with last year's £2099 17-inch MacBook Pro.
Geekbench testing focuses on processor and memory performance, providing comparisons of raw power between machines but only telling part of the story. Consequently, it remains to be seen how the new MacBook Air models will stack up in real-world situations, but early indications suggest that Apple's ultraportable lineup has indeed received a major increase in performance.