Apple's Linen-Lined Proposal for Grand Central Terminal Store Set for Approval
In a report on the changing dynamics of the retail scene in Manhattan's historic Grand Central Terminal, The New York Times notes that Apple's bid for a retail store in the terminal is likely to be accepted next week. Apple is said to have delivered its proposal in "linen-lined boxes" in order to make a memorable impression.
When Apple proposed opening a store on the balcony overlooking the main hall, it submitted its bid in linen-lined boxes, as if it were a wedding present to transit officials, a source familiar with the application process said. The board is expected to approve the deal at its monthly board meeting next week.
According to the report, many longtime vendors are displeased with the Metropolitan Transportation Authority's strict control over the retail aspects of Grand Central Terminal, policies that require vendors to reapply for their space through an extremely competitive process at the end of each lease term. The reapplication process has seen several vendors who had been selling in the landmark terminal for decades ousted as "better" options presented applications for the spaces.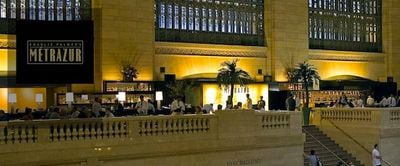 Apple is said to be set to occupy space on the East Balcony overlooking the Main Concourse, taking the space of restaurant Metrazur, which reportedly received a buyout to terminate its lease eight years early in what may have been a specific effort to make room for Apple.