Apple Releases iTunes 10.4 As 64-Bit Cocoa App For Lion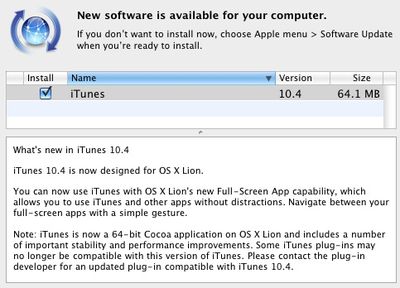 Apple this morning released iTunes 10.4 with support for Lion's Full-Screen Apps feature and, more importantly, iTunes is now a 64-bit Cocoa application under Lion.

You can now use iTunes with OS X Lion's new Full-Screen App capability, which allows you to use iTunes and other apps without distractions. Navigate between your full-screen apps with a simple gesture.

Note: iTunes is now a 64-bit Cocoa application on OS X Lion and includes a number of important stability and performance improvements. Some iTunes plug-ins may no longer be compatible with this version of iTunes. Please contact the plug-in developer for an updated plug-in compatible with iTunes 10.4.
After WWDC last month, Apple released a beta of iTunes 10.5 that was 64-bit, but it seems we don't have to wait for 10.5 to take advantage of the feature:

The primary advantage afforded 64-bit applications is the ability to address more than 4GB of memory which can be a distinct advantage for applications which use large data sets. Adobe, for example, received some criticism in 2008 that their Photoshop products were slow to adopt 64-bit mode on the Mac. 64-bit Photoshop for Mac ultimately arrived with CS5.

The reason for the long delay was the fact that Apple dropped support for 64-bit mode in Carbon back in 2007, requiring developers to port their existing Carbon applications to Cocoa in order to take advantage of 64-bit mode. This primarily affected older applications such as Photoshop and iTunes which had existed prior to Mac OS X and were still using Carbon, Apple's legacy API. Meanwhile, Cocoa was Apple's native API for Mac OS X and offered some additional user interface advantages. For better or worse, many users saw Cocoa applications as superior to their Carbon counterparts due to historic baggage of many of the Carbon applications.
64-bit support only exists in Lion; iTunes remains a 32-bit application under Snow Leopard.