Developers at WWDC are realizing that Steve Jobs made a purposeful omission when he didn't include Carbon in Leopard's list of 64-bit compatible libraries at this year's WWDC keynote.
At last year's keynote, Apple had claimed that both Carbon and Cocoa would be 64-bit, adding to the 64-bit fundamentals that Tiger had laid. A photo from last year's presentation, courtesy of Engadget: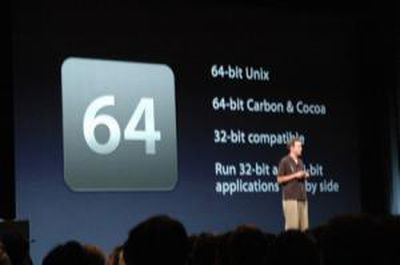 However, according to the latest on Apple's website, Leopard's 64-bit frameworks will include the POSIX and math libraries found in Tiger, Cocoa, Quartz, OpenGL, and X11 GUI framework. In addition, Apple confirms that Carbon will not be 64-bit on the Carbon Developer mailing list.
In all reality, this omission may not prove to be a huge stumbling block for many users, as Cocoa has been Apple's preferred framework since the inception of Mac OS X and Carbon was employed primarily as a method for porting legacy apps to OS X.