OS X Lion and New MacBook Airs Coming on Wednesday?
AppleInsider reports that this Wednesday may finally be the day that OS X Lion and new MacBook Air models finally begin shipping as consumers have been anxiously awaiting the releases.
According to people with proven track records who would be in a position to know, the new product launches are set to occur later this week. Specifically, one person said the products would be released on Wednesday at 8:30 a.m. Eastern.
Circulating rumors have claimed that the updated MacBook Air models will sport a minimum of 128 GB solid state drives and 4 GB of RAM, and will also see the return of a backlit keyboard.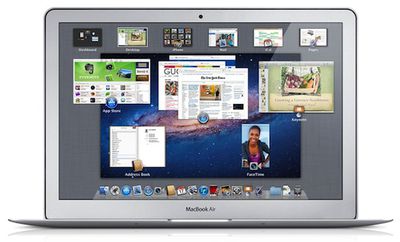 Apple has been reported to be holding new hardware launches until OS X Lion is ready so that it can ship the machines with the latest operating system pre-installed. A number of other new hardware updates are said to be pending, including a Mac mini refresh and an updated LED Cinema Display. New Mac Pro models have also been rumored for release later this month or early next month. All of the new releases are said to support the new Thunderbolt high-speed data connectivity standard.