Apple Soars to Third Place in U.S. PC Market With 10.7% Share
Research firms Gartner and IDC today released their preliminary quarterly personal computer shipment data, offering up a picture of market performance during the second quarter of 2011. Overall, the PC industry exhibited small growth on a worldwide scale, with unit shipments growing by about 2.5% between the second quarters of 2010 and 2011. But shipments in the U.S. actually declined year-over-year by about 4-6% according to the two firms. Gartner in particular points to the iPad as having had a detrimental effect on PC shipments for the quarter.
"Given the hype around media tablets such as the iPad, retailers were very conservative in placing orders for PCs. Instead, they wanted to secure space for media tablets. Some PC vendors had to lower their inventory through promotions, while others slimmed their product lines at retailers," [Gartner analyst Mikako] Kitagawa said.
According to Gartner's report, Apple surged into third place in the U.S. market, up from fifth place a year ago and even as recently as last quarter, grabbing a 10.7% share, up significantly from an 8.5% share in the prior-year quarter.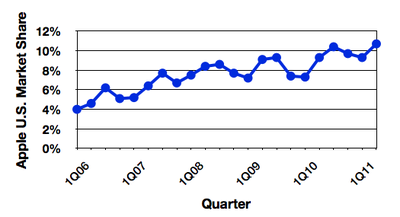 Apple's U.S. Market Share Trend: 1Q06-2Q11 (Gartner)
Apple's U.S. unit growth for the quarter was 8.5% year-over-year according to Gartner, well ahead of the overall U.S. industry trend of a 5.6% decline. Only Toshiba at 3.3% joined Apple among the Top 5 manufacturers increasing their shipments year-over-year.

Gartner's Preliminary U.S. PC Vendor Unit Shipment Estimates for 2Q11 (Thousands of Units)
IDC's report
offers a similarly rosy picture for Apple, pegging its year-over-year unit growth in the U.S. at an even more substantial 14.7% while Toshiba at 3.7% was again seen as the only other member of the U.S. Top 5 to see year-over-year growth. Combined with Acer's sales plunging by over 25%, Apple's growth puts it in third place behind market leaders HP and Dell according to IDC's data, matching the 10.7% share seen by Gartner. Overall, IDC pegs the PC industry as having shrunk by 4.2% year-over-year.
As usual, neither Gartner nor IDC covered Apple's worldwide performance for the quarter, as the company does not rank in the top five by global shipments. But given that the worldwide market experienced only about 2.5% year-over-year growth, Apple appears to be continuing to make up ground on the rest of the industry.