Apple Introduces Volume App Purchasing for Business and B2B Apps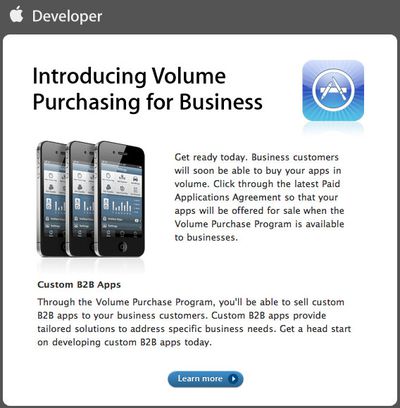 Alongside today's international App Store pricing changes, Apple has introduced a new Volume Purchase program for the App Store. According to Apple, the App Store Volume Purchase Program allows businesses and educational institutions in the U.S. to purchase apps in volume and distribute them within their organizations.
Streamline your purchasing process and put more power and productivity in the hands of your workforce. Every paid app in the App Store is available for businesses to buy in volume through the program website. Simply search for the apps you need, enter the quantity you want to buy, and complete the transaction with your corporate credit card. Apps are available for purchase at the same price listed in the App Store.
Apple had previously offered volume sales for educational institutions and is extending this to businesses. Business and Educational institutions will need to enroll in the program in order to participate.
Separately, Apple is also allowing businesses to sell and distribute custom business-to-business (B2B) apps for business customers. These custom B2B apps can be developed for specific needs and distributed to businesses through the same App Store mechanism. This allows third-party developers to produce custom deployments of apps specifically designed for clients that are using iOS devices.
Update: Apple's webpage for App Store Volume purchasing is now live and provides addition information and says it's "Coming Soon":
Whether you're providing apps to two employees or ten thousand, the Volume Purchase Program makes it simple to find, buy, and distribute the apps your business needs.

The Volume Purchase Program also provides a way to purchase custom B2B apps built by third-party developers to meet the unique needs of your business.

The Volume Purchase Program for Business is coming soon to businesses in the United States.