iOS 5 Beta 3 Brings Enhanced Location Controls and Other Tweaks
It's All Tech posts an extensive list of changes discovered so far in the third beta version of iOS 5, which was seeded to developers just a short time ago. Among the interesting new features and tweaks are: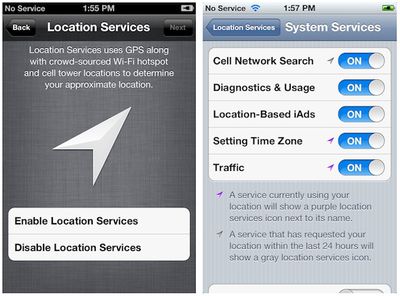 - Enhanced location services controls: Aside from a prominent new screen in the iOS 5 setup process outlining how location services work, the new beta also includes finer granularity of controls, allowing users to specify whether such functions as cell network searching, diagnostics, iAds, time zone setting, and traffic information may make use of the device's location information. This is of course in addition to the per-app location controls that are already available.
- Speed enhancements: User reports indicate that performance is significantly improved under the new beta, with a considerable reduction in lag.
- Voice roaming: In addition to the existing ability to turn off data roaming in order to avoid hefty data charges, the new beta adds a "voice roaming" toggle that will allow users to prevent their phone from connecting while on roaming networks not included in their carrier's service package and thus subject to extra fees.
- Prompt for moved video content: With iOS 5, Apple has rebranded the "iPod" app on the iPhone and iPad as "Music", in line with what is found on the iPod touch. The new beta now issues an initial prompt informing users that video content such as movies, TV shows, and music videos have been moved to the "Videos" app.
- Safari preferences: The ability to clear cookies and data has been restored in the new beta, and a new "Advanced" page has been added with additional tools for removing data and debugging.
- Other assorted tweaks: A new icon for the "Reminders" app that is being added in iOS 5, an iTunes Store button in the "Music" app, the Wi-Fi Sync setting renamed to "iTunes Wi-Fi Sync", and mailbox creation from within Mail.