BestBuy.com Runs Out of MacBook Airs As Refresh Nears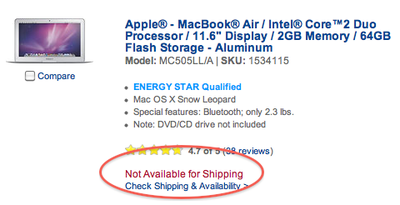 BestBuy.com has stopped shipping MacBook Airs to customers ahead of expected revisions to the MacBook Air. 9to5Mac speculates this is to divert the limited MacBook Air stock to their retail locations:
This typically means that supplies are so constrained that they have to focus their remaining inventory on their popular physical retail stores. BestBuy.com does not provide a date for when they will be shipping the notebooks again, but these types of things are usually indicative of a product refresh.
Rumors have all pointed to an imminent refresh of the MacBook Air in the coming weeks. Apple also may be holding up new Macs in order to pre-install the final version of Mac OS X Lion on launch. Mac OS X Lion is due for release in July.