Analyst Claims Apple May Release $349 iPhone for Prepaid Markets This Year
Fortune reports that Deutsche Bank analyst Chris Whitmore today released a new research note claiming that Apple may be preparing to release two new iPhone models later this year, with the usual iPhone revamp being joined by the debut of a cheaper model coming in at an unlocked, unsubsidized price of $349.
In a note issued early Monday, Deutsche Bank's Chris Whitmore is telling clients to expect both -- an iPhone 5 and an iPhone 4S.

"With Nokia and RIMM struggling," he writes, "the time is right for Apple to aggressively penetrate the mid range smart-phone market (i.e. $300-500 category) to dramatically expand its [total addressable market] and market share."

As Whitmore sees it, an iPhone 4S that is unlocked, priced around $349, and comes with a pre-paid voice plan would "drive significantly greater penetration" into an addressable market that has grown to include 1.5 billion potential customers in 98 countries, two thirds of whom prefer pre-paid plans.
Whitmore notes that while the market for prepaid smartphones is very small in the U.S., many other markets around the world have much higher levels of prepaid activity, and a cheaper iPhone would significantly lower the barrier to entry for those customers.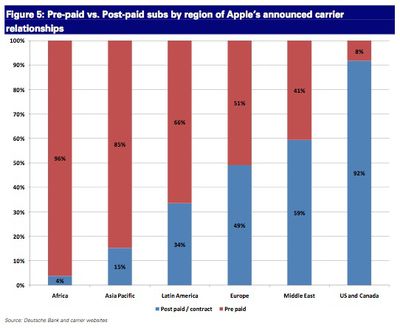 A cheaper (and in many cases smaller) "iPhone nano" has been the subject of many rumors over the years, although it is unclear just how Apple will be able pare down the current iPhone's feature set to bring the unsubsidized pricing down to the $349 level suggested by Whitmore, or even lower price points as suggested in previous reports. Unsubsidized pricing for the iPhone 4 begins at $649, although the 8 GB iPhone 3GS still sold by Apple comes in at a much lower $449. With Apple's iPod touch line starting at $229, there may in fact be some flexibility to put together a somewhat stripped down iPhone coming in at a price point in the $350 range.
Also unclear is the basis of Whitmore's claim, whether it be concrete information obtained from Apple's supply chain or mere speculation on what Apple "should" do.
A separate note issued yesterday by Morgan Stanley's Katy Huberty claims that Apple is set to begin ramping production of a new iPhone in mid to late August, suggesting that a launch might not occur until late September. Rumors have increasingly pointed to a September launch for the next iPhone, although many have been hoping that Apple will introduce it at an early September event in line with the company's usual iPod-focused event.