'Back to School' Promo to Start Tomorrow - $100 App Store Gift Card Confirmed [Europe Too]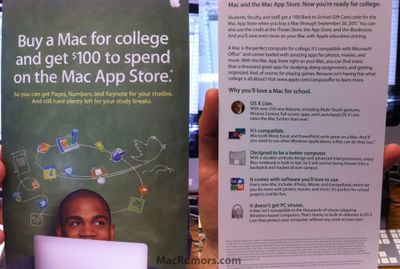 We've relayed multiple times that the Apple Back to School Promotion would be starting at any minute. The predictions starting kicking off a few weeks ago with today even being suggested a possible launch date. We're finally going to see Apple's Back to School promotion launching tomorrow (June 16th), and we actually have photographic proof of the imminent launch.
The above photos were sent to us by a tipster indicating that the promotion will offer a $100 gift card that can be used in the Mac App Store, iTunes Store, App Store or iBookstore, and that it will launch tomororow. In the fine print it specifically lists "June 16th" as the launch date with the promotion running until September 20, 2011".
The offering of an App Store gift card is a notable departure from Apple's previous Back to School promotions which offered students free iPods with the purchase of a Mac. The new push into App Store credit is a reflection of Apple's new push into the App Store for Mac that launched early this year. The Mac App Store will be the distribution point for Mac OS X Lion and Final Cut Pro X.
Update: iSpazio.net reports that European Apple Back to School will also be kicking off with a 75 Euro gift card.