New MacBook Air Due This Wednesday? [Updatedx4 - Nope]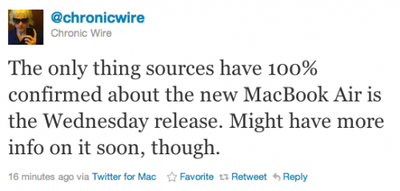 On the heels of the Nuance speech screenshots, @ChronicWire claims that Apple will be releasing the new MacBook Air this wednesday.
Apple has been said to be prepping the new Sandy Bridge/Thunderbolt MacBook Airs for June-July. The most recent reports claim that Apple has been ramping up production ahead of the launch. The new MacBook Airs are expected to finally adopt the latest generation Intel processors which should provide a significant performance boost over the existing models. @Chronicwire has been known to have reliable sources in the past.
Update: We've heard confirmation that MacBook Airs are on their way to Apple Stores for a Tues or Wed launch. New Part numbers for MacBook Airs are MC603, MC604, MC605, MC606.
Update 2: Those part numbers are said to be for unlocked iPhones, so nothing definite on the MacBook Air.
Update 3: It seems Chronicwire was also confused about those same part numbers. In an update:
CORRECTION: Source had mixed up part numbers, it is unlocked iPhones that will be headed to US Apple Stores for Wednesday, NOT MacBook Airs.