iOS Speech Recognition Settings Confirm Nuance-Apple Partnership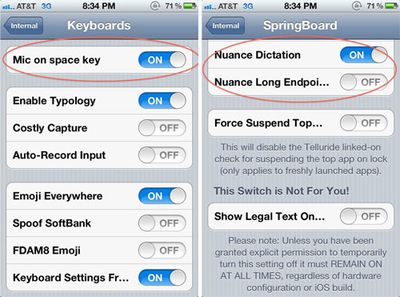 A couple of screenshots posted on Twitter by @ChronicWire reveals hidden Nuance preferences found in the latest internal iOS builds that confirms that Apple has been actively working on building in speech recognition into iOS.
Rumors of a Nuance-Apple partnership had been heavy in the weeks prior to WWDC, though no announcements were made during the keynote. Later, comments by Robert Scoble indicated that the deals were simply not completed in time for WWDC but were still in the works:
I was told weeks ago by my source (same one who told me Twitter would be integrated deeply into the OS) that Siri wouldn't be done in time. Maybe for this fall's release of iPhone 5? After all, they need to have some fun things to demo for us in August, no?
The source of the screenshots (@Chronic / @SonnyDickson) has been known to have legitimate sources in the past. So, it seems certain that Apple is actively working on bringing Nuance speech recognition into iOS, perhaps as early as iOS 5 this fall.