Constrained Supplies Suggest Mac Mini Server and Mac Pro Server Headed for Refresh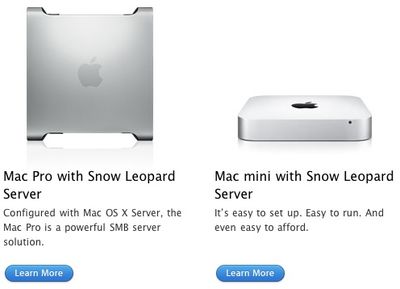 According to 9 to 5 Mac, trusted source Mr. X has indicated that supplies of the server models of Apple's Mac mini and Mac Pro lines are officially listed as constrained, suggesting that Apple may be drawing down supplies ahead of a refresh.
In addition to OS X Lion, our sources are already expecting new MacBook Airs and Time Capsules fairly soon - due to supply shortages and now Mr. X tells 9to5Mac that Apple's Mac mini Server and Mac Pro Server are constrained with no shipment date yet in place for new models.
Apple introduced the Mac mini server option, which substitutes a second hard drive for the usual optical drive, in late 2009. The Mac Pro server configuration debuted last November as the company announced the pending discontinuation of its Xserve rackmountable server. A report earlier this year indicated that Apple was developing a smaller, narrower Mac Pro that could be rackmounted, although much larger than the previous Xserve.
It seems reasonable to assume that the all models of the Mac mini and Mac Pro could see updates alongside refreshes of the server models, as the machines share the vast majority of their specs.