Apple Developing Narrower, Rackmountable Mac Pro Prototypes?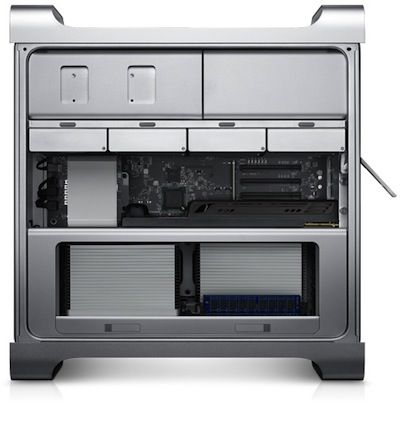 Inside Apple's current Mac Pro
According to
9 to 5 Mac
, Apple is "toying with" a
redesigned prototype
for its Mac Pro line, narrowing the design from its current 8.1-inch width to something slightly over 5 inches wide. Combined with a slight reduction in height to around 19 inches, the redesign would apparently allow the Mac Pro to be rackmountable in server cabinets as a 3U component.
Nearly eight years after the Mac Pro's current design debuted, Apple is toying with a re-designed version of the product. The new design is said to be narrower at just over 5-inches and a few inches shorter at around 19-inches. One of the reasons that Apple might be making this particular Mac Pro prototype smaller is because it is able to fit on to a standard server rack.
Apple of course used to offer its dedicated Xserve product line offering a thinner 1U component for rackmountable use, but the company discontinued the line as of January 31st of this year. The company has since introduced a new "server" configuration of the Mac Pro, but a redesign to accommodate both standard upright orientation and a sideways rackmounted one would likely be a welcome move for server fans despite the significant increase in rack space required.
The report claims that Apple has developed a "stacked" drive configuration utilizing sleds capable of handling two conventional or solid state hard drives apiece, increasing the density of drives in an attempt to squeeze all of the existing components into the smaller form factor while still preserving space for expandability.
Apple's Mac Pro was last updated in late July, meaning that the line could be due for an update, although the company has been stretching out its Mac Pro product cycles over the past few years.