OnLive Announces iPad Support for Cloud Gaming with Optional Bluetooth Controller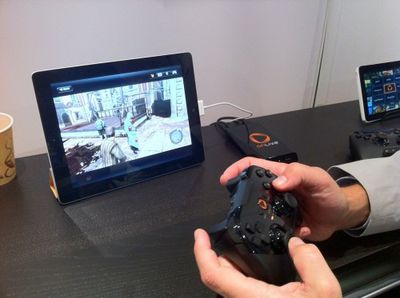 At E3 this week, OnLive announced the coming of an iPad client App for the OnLive gaming service.
OnLive is pleased to announce the OnLive Player App for iPad and Android. Like the recently announced consoles, the OnLive Player App will enable gameplay of virtually all OnLive games on an iPad and Android tablet with touch or OnLive's new Universal Wireless Controller.
We previously covered OnLive demoing this as a "tech demo" but it seems they've progressed to a final product. OnLive has already delivered a viewer app so iPad users can watch live games. Today's announcement, however, extends that to actual gameplay from your iPad.
OnLive delivers console-quality games to Macs, PCs, your TV (and now your iPad) by remotely streaming the game from their central servers. The customer's home computer need not be fast enough to render high resolution graphics -- instead it simply has to play back what amounts to a video stream of the game, while user controls are sent back to the central server.
We spoke to TouchArcade's Eli Hodapp who had a chance to demo the new system which he said worked "amazingly well". The OnLive iPad client will offer a visual overlay so customers can control games using on-screen touch controls to replace the usual physical controller. They also are giving developers the opportunity to implement actual touch/swipe controls as seen in the video above. Finally, OnLive will be offering a physical game controller (photo above) that communicates directly to the iPad through wireless bluetooth. The physical controller is optional but significantly improves the gaming experience. Hodapp described the entire package as a "game changer". OnLive has not yet announced pricing for the optional controller, and had no comment about an iPhone version in the future.
This app seems like it would be find perfect usage for iOS 5's new AirPlay mirroring that would allow you to display the game on your HDTV.