Leaked Screenshots From Final Cut Pro X and Motion 5?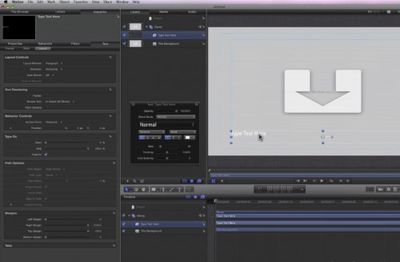 Twitter user @BWilks2001 today posted a series of screenshots (via AppleInsider) claimed to be from Apple's forthcoming Final Cut Pro X and associated Motion 5 release, potentially offering a further glimpse at what users can expect in the next-generation professional video production suite.


The screenshots are primarily from Motion 5 and reveal such aspects as the Project Browser, rigging functions, and color adjustment functionalities. According to the poster, a revamped version of Color is also said to be on the way, although no screenshots were provided.


The screenshots have since been pulled from TwitPic, with the poster claiming or at least assuming that Apple is responsible for the removal, although there appears to be no confirmation of that. The authenticity of the images has also not been verified.


Apple demoed Final Cut Pro X back in April at the Final Cut Pro User Group Network SuperMeet held in conjunction with the National Association of Broadcasters' NAB Show 2011 in Las Vegas. At the time, the company announced that Final Cut Pro X would launch via the Mac App Store in June priced at $299, but did not provide any details on other Final Cut Studio apps such as Motion and Color. Subsequent reports had indicated that the version of Final Cut Pro X demoed at the event was "nowhere near" the final version and that more info on other Final Cut Studio applications would be forthcoming in due time.


Update: The entire @BWilks2001 Twitter account has now been removed.