2011 Apple Design Award Winners Announced
Apple last night held its annual Apple Design Awards ceremony at WWDC, recognizing twelve applications for excellence in design and innovation across four categories: Student, iPhone, iPad, and Mac. All eligible applications were required to be available via either the iOS or Mac App Store.
This year's winners come from a range of genres, from games to news to books to music and beyond. In terms of price, the winners range from the free Pulse News Reader for iOS to the $49.99 Capo for OS X.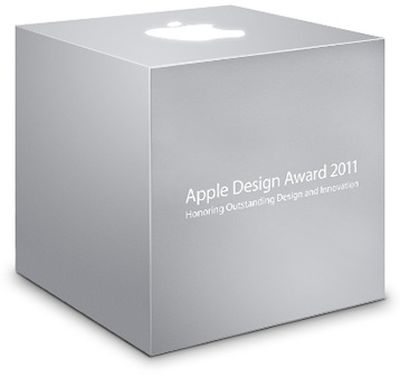 Student
- Grades 2
- Pennant
- Pulse News Reader
iPhone
- Cut the Rope
- Golfscape GPS Rangefinder
- Infinity Blade
iPad
- Osmos for iPad
- Our Choice
- djay
Mac
- Capo
- Pixelmator
- Anomaly Warzone Earth
As part of a focus on iOS at last year's conference, Apple did not include Mac applications in the Apple Design Awards competition. But with OS X Lion playing a prominent role in this year's event and the Mac App Store gaining momentum, Mac applications returned to the ballot this year.