2011 Apple Design Awards for Both iOS and Mac OS X, App Store Only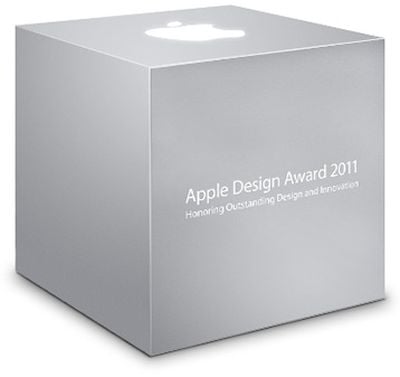 Alongside today's
announcement
that its Worldwide Developer Conference (WWDC) will be held June 6th-10th in San Francisco, Apple also revealed details on its
Apple Design Awards
competition, a program designed to recognize applications that "set the standard for excellence" on Apple's platforms.
Apple received a significant amount of criticism last year for its decision not to offer Apple Design Awards for Mac OS X applications, choosing instead to simply offer awards in iPad and iPhone categories, although the move was apparently simply because Apple wasn't prepared to begin showing off Mac OS X Lion at that time and thus focused the event primarily on iOS.
Mac developers will be glad to know that Apple has added Mac OS X applications back into the Apple Design Awards this year, preparing to honor applications on both Mac OS X and iOS platforms. One catch, however, is that applications must be included in the App Store by May 23rd in order to be eligible for an award.
Does an app have to be on the App Store to be considered?
Apps must be available on the App Store by May 23, 2011, to be considered for an Apple Design Award.
While the App Store requirement is taken for granted when it comes to iOS applications, it is significant that it is also being applied to Mac OS X applications given the Mac App Store's relatively recent introduction and myriad of other means of application distribution available to developers. From Apple's perspective, limiting entries to applications found in the Mac App Store is a good way to continue pushing the marketplace forward, encouraging developers of quality applications to bring their products to the store.