Apple Rolls Out First iCloud Features: Automatic Downloads, Purchased Content Listings
While Apple's new iCloud service doesn't fully launch until the fall alongside iOS 5, the company has already rolled out a few small portions of the service to existing users. Among the additions are automatic downloads and listings of purchased content for easy redownloading.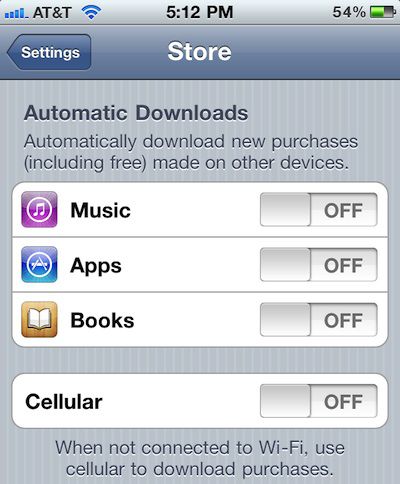 Automatic downloads allow users to set preferences to have newly-purchased content such as music, apps, and books automatically pushed to other devices. Users have individual control over the three different media types and can also specify whether or not content pushing should be limited to Wi-Fi connections only in order to save cellular bandwidth. Settings are available within the "Store" menu of the Settings application in iOS 4.3.


Facilitating the re-download of previously purchased content are new "Purchased" listings found in the iTunes, App Store, and iBooks applications for iOS devices. The new listings provide users with easy access to listings of all items purchased on a given Apple ID, whether or not that content is currently on the device. Users can then easily obtain the previously-purchased content not currently installed.
Apple is also in the process of releasing iTunes 10.3 for Mac OS X and Windows, an update that should bring the new iCloud capabilities to the Mac side of things. The new version is being advertised on Apple's iTunes site, but the actual download page is still showing iTunes 10.2.2 and Software Update is not yet offering the new version.