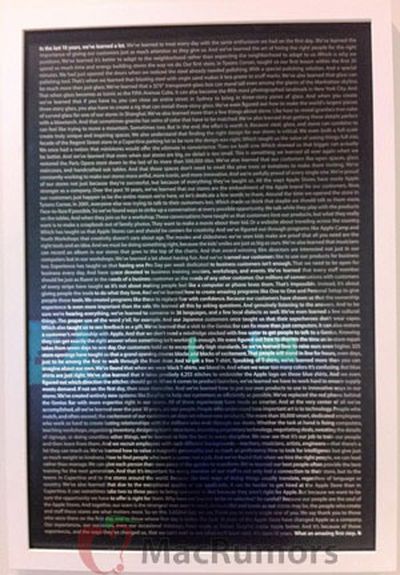 Click for larger.
The most public celebration of Apple Retail's tenth anniversary was the rollout of
iPad interactive shopping guides
, something Apple calls the "Smart Sign". But behind the scenes, in the retail back-of-house area, Apple posted a very moving poster celebrating all the company has learned over the past 10 years, embedded above. The poster begins:
In the last 10 years, we've learned a lot. We've learned to treat every day with the same enthusiasm we had on the first day. We've learned the importance of giving our customers just as much attention as they give us. And we've learned the art of hiring the right people for the right positions. We've learned it's better to adapt to the neighborhood rather than expecting the neighborhood to adapt to us. Which is why we spend so much time and energy building stores the way we do.
Throughout it's full of interesting tidbits of knowledge:
• Our first store, in Tysons Corner, taught us our first lesson within the first 30 minutes. We had just opened the doors when we noticed the steel already needed polishing. With a special polishing solution. And a special polishing tool. That's when we learned that blasting steel with virgin sand makes it less prone to scuff marks.

• We even built a full-scale facade of the Regent Street store in a Cupertino parking lot to be sure the design was right. Which taught us the value of seeing things full size.

• Speaking of T-shirts, we've learned more than you can imagine about our own. We've found that when we wear black T-shirts, we blend in. And when we wear too many colors it's confusing. But blue shirts are just right. We've also learned that it takes precisely 4,253 stitches to embroider the Apple logo on those blue shirts. And we even figured out which direction the stitches should go in.
The full text of the poster is transcribed in the discussion thread.