Apple Testing an ARM (A5) Powered MacBook Air?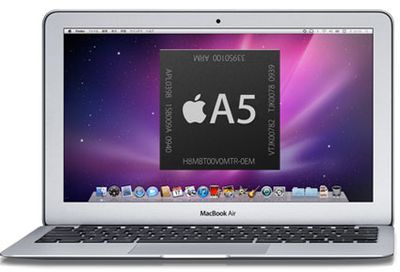 Mac Otakara claims that Apple is presently testing an A5 powered MacBook Air.
And additionally, an anonymous source told more information, Apple already made test equipment of Thunderbolt MacBook Air driven by A5 processor.

According to this source who saw live A5 MacBook Air actually, this test machine performed better than expected.
The A5 processor is an ARM-based processor that Apple uses in the iPad 2. Mac Otakara is uncertain what operating system this experimental machine was running. They also add that Quanta Computer manufactured this test-drive machine.
This news comes weeks after another rumor claiming that Apple is planning on transitioning from Intel to ARM-based processors on their laptops in the not too distant future. Most people had dismissed that rumor due to the compatibility issues that would be introduced with such a transition. Another major issue is that while ARM processors are more power efficient, they presently offer significantly lower performance than their Intel counterparts.
The Japanese blog has had some accurate information in the past, being the first to describe some of the new physical characteristics of the iPad 2. It is certainly plausible that Apple might be testing such combinations in their labs, though its unclear if/when Apple might actually decide to introduce such a machine.