Google Announces Major Push Into NFC Payments With Google Wallet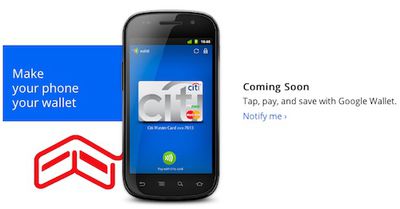 Google today unveiled its new Google Wallet initiative, a push into near field communications (NFC) that will allows users to make electronic payments with NFC-compatible hardware through the Google Wallet mobile app for Android.
Today in our New York City office, along with Citi, MasterCard, First Data and Sprint, we gave a demo of Google Wallet, an app that will make your phone your wallet. You'll be able to tap, pay and save using your phone and near field communication (NFC). We're field testing Google Wallet now and plan to release it soon.
Google Wallet will be able to store users' credit card, loyalty card, and gift card information electronically, making it easy to access the payment and discount methods at compatible points-of-sale. The app will also coordinate with Google Offers, a new program allowing merchants to offer discounts redeemable through NFC or barcode scanning.
Initial support for Google Wallet NFC payments comes from MasterCard, which will accept payment at hundreds of thousands of existing PayPass terminals. Google is also rolling out its own virtual "Google Prepaid Card", which can be funded by any major credit card. Google Prepaid Card comes with an initial $10 sign-up bonus, and there will be no fees on transactions to top up the card until at least the end of 2011.
Hardware support for Google Wallet will appear on the Nexus S 4G phone running on Sprint's network, but other compatible handsets will be added over time.
Rumors have gone back and forth over whether Apple will be adding NFC capabilities to the next-generation iPhone, with the general feeling currently being that Apple will add NFC to future iPhone models, but not necessarily for the next generation expected to be introduced later this year.