Manipulation of Apple's Stock Price Evident in the Options Market?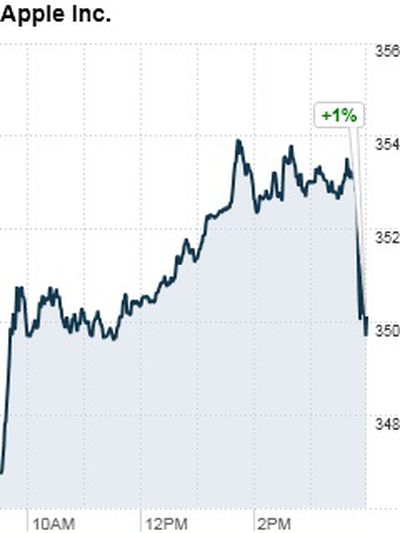 Apple's stock price drop in the closing minutes of trading on April 29th
Fortune reports
on an interesting phenomenon being observed in Apple's stock price related to the weekly options market, the trading of rights to purchase stock at a given price at the end of a specified period. According to the report, Apple's stock is consistently seeing suspicious price changes on Fridays as those options are set to expire, activity that makes a significant of traders lose any potential gains as the stock price moves to meet the strike price for that week's options. In many cases, that activity serves to depress the overall stock price, thereby also negatively impacting regular traders as well.
It was 3:48 p.m. on Friday April 29 and traders who had purchased Apple (AAPL) April 29 $350 "calls" -- options that gave them the right to buy Apple shares in blocks of 100 for $350 per share -- were sitting pretty. The stock was trading around $353.50 and those calls were worth more [than] $350 apiece (the difference between the price of the stock and the so-called "strike price" of the option times 100).

Then, in an extraordinary burst of trading -- exacerbated by the rebalancing of the NASDAQ-100 scheduled for the following Monday -- more than 15 million shares changed hands and the stock dropped below the $350 strike price just before the closing bell. Result: The value of those calls disappeared like a puff of smoke.
Fortune went back and charted the daily closing prices for Apple stock over the past eight weeks, comparing the Friday closes to the "max pain" price at which options on both sides of the equation (puts and calls) have the least value in aggregate. Throughout the time period, Apple's stock consistently moved toward the max pain point on each Friday, sometimes over a period of only minutes as trading came to a close for the week.
While the phenomenon is not new and not unique to Apple, the reasons for it are not entirely clear. Some have argued that normal hedging activity is responsible for the drifts in stock price, but scientific studies have shown that such stock price behavior would not be accounted for by simple hedging and is thus indicative of stock price manipulation, which is illegal under U.S. securities law.
Apple is obviously one of the most closely watched stocks these days, and with the second-largest market capitalization in the U.S. markets has the potential to significantly influence trading. And so an apparently consistent manipulation of Apple's stock price makes for an interesting story, even if it is not yet clear who is responsible for the activity and how it is being accomplished.