'Dramatic' Growth in Digital Music Sales Due to The Beatles on iTunes?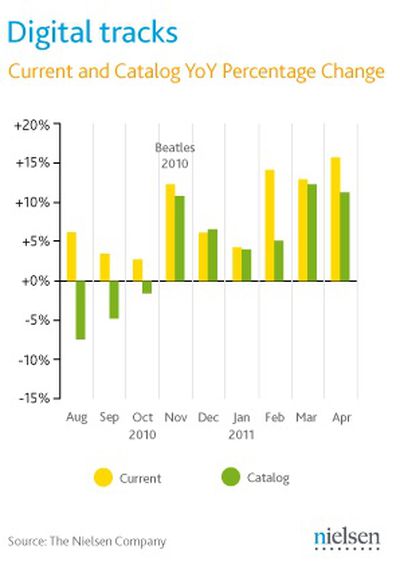 Media research firm Nielsen yesterday revealed that overall music sales in the United States are up 1.6% year-over-year so far in 2011, driven in large part by a 12.4% surge in digital music sales that appears to coincide with the debut of The Beatles on iTunes last November.
While physical albums saw a decline in year-over-year sales from the same period in 2010, digital album and track purchases went up 16.8 percent and 9.6 percent, respectively. Digital retailers received more than half of all music transactions, propelling a 12.4 percent growth in sales over last year.

Catalog album sales are up 5.4 percent in 2011, thanks in part to a long-awaited 2010 deal allowing digital distribution of The Beatles' albums for the first time.
As noted by All Things Digital, however, it seems hard to believe that The Beatles are responsible for the continued bump in digital sales still being seen six months after the group's iTunes debut. Regardless, music executives are undoubtedly happy that music sales are at least holding steady after what has been an extended decline in overall sales and a flattening out of digital sales, although it will obviously take some time to determine if this is a true shift in sales momentum or simply a brief respite.