Apple Restricts Hard Drive Replacements on New iMacs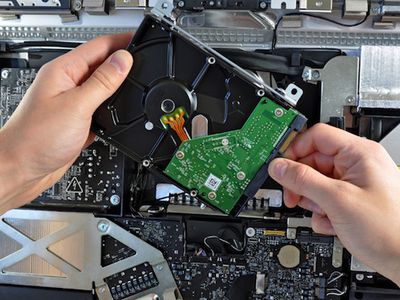 Hard drive from Early 2011 iMac (Source: iFixit)
As
noted by Other World Computing
, Apple has implemented a new temperature sensor system on its latest iMac models that significantly hampers the ability of users to replace their original hard drives in the case of failure or a desire to upgrade. Without the custom 7-pin hard drive cable and proprietary firmware included on stock hard drives in the new machines, the new iMacs' fans spin to full speed and the machines fail to pass the Apple Hardware Test.
For the main 3.5" SATA hard drive bay in the new 2011 machines, Apple has altered the SATA power connector itself from a standard 4-pin power configuration to a 7-pin configuration. Hard drive temperature control is regulated by a combination of this cable and Apple proprietary firmware on the hard drive itself. From our testing, we've found that removing this drive from the system, or even from that bay itself, causes the machine's hard drive fans to spin at maximum speed and replacing the drive with any non-Apple original drive will result in the iMac failing the Apple Hardware Test (AHT).
As the report notes, the change does mean that anyone seeking to replace the hard drive in a new iMac will have to go through Apple, limiting options and increasing costs.
It is not a matter of "if" but rather a matter of "when" your hard drive is going to fail. We preach this all the time in regards to having a proper backup strategy in place to prepare from when that failure happens. But it seems now, that when that happens to the main drive on your iMac, you're left with two options - buy a new drive from Apple and have them install it via one of their Authorized Service Centers, or enjoy the rather large Apple logoed paperweight on your desk. Want a 3.5" drive larger than 2TB? Too bad - Apple doesn't offer them.
Apple has not officially supported do-it-yourself hard drive replacements on the iMac for many years, but many users have still elected to take on the task themselves or have others not specifically authorized by Apple perform the swap for them.