2011 iMac Notes: Magic Trackpad Option, Display Connectivity, Boot Camp Update
In the wake of today's release of new iMacs, a number of tidbits about the new models have been surfacing.

-
Magic Trackpad
: While Apple previously allowed customers to add a Magic Trackpad to their iMac orders for an additional charge of $69, the company now offers customers the option of swapping out the included Magic Mouse for a Magic Trackpad at no additional charge.
iMac comes with a wireless keyboard and either a Magic Mouse or a Magic Trackpad - your choice. With Magic Mouse, you get a mouse unlike any other. Its smooth, seamless design lets you control everything with simple gestures. But if you're all gestures all the time, then opt for Magic Trackpad. Its touch-friendly all-glass surface gives you plenty of room to scroll, swipe, pinch, and rotate to your fingers' content. When you purchase your new iMac from the Apple Online Store, you have the option to replace the included Magic Mouse with the Magic Trackpad at no extra cost.
Customers can of course still add the Magic Trackpad for $69 if they wish to have both input devices.
- 27-Inch Model as External Display: Since 2009, the 27-inch iMac has supported use of the machine as a secondary display via the Mini DisplayPort connector. Called "Target Display Mode", the feature allows users significant flexibility in using the machine either on its own or to provide extra screen real estate for other machines when needed.
While we were unable to find explicit mention of support for Target Display Mode on the new iMac product pages, an Apple sales representative has confirmed to us that the new 27-inch models do continue to support the feature through the new Thunderbolt ports.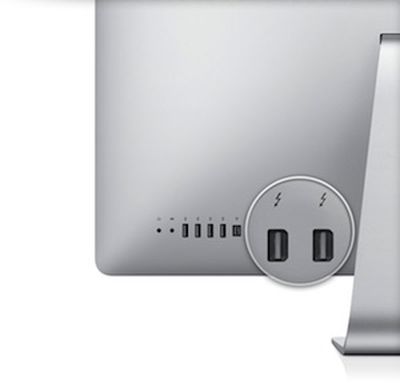 -
Dual External Display Support
: Beyond continued support for display input,
GigaOM reports
that the presence of two Thunderbolt ports on the new 27-inch iMac will allow the machine to drive two external displays for a total of three screens.
One of the most exciting things about today's new iMacs (and the thing that will probably result in me buying one) are the dual Thunderbolt ports on the 27-inch iMac. They're great in that they provide a lot of potential I/O transfer power, but more importantly because it allows the new iMac to output to two external monitors simultaneously, Apple confirmed to me this morning.
- Boot Camp Update: Apple has already pushed out a Boot Camp 3.2 software update for the new iMac, addressing issues with Japanese and Korean keyboards. A similar update was released for Apple's new MacBook Pros early last month.
Boot Camp is Apple's utility for allowing users to natively run versions of Microsoft Windows on their Macs.
Update: Engadget has a hands-on review of the new 27-inch model and has tested hooking it up to two 30-inch Dell displays.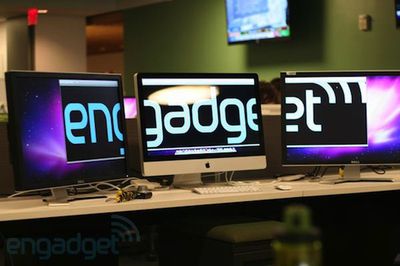 Update 2
:
Macworld clarifies
that the Target Display Mode available on the new 27-inch iMac also requires that the source computer be Thunderbolt-equipped. Only the current MacBook Pro and of course other new iMacs currently meet this description, with other machines offering only Mini DisplayPort and not Thunderbolt unable to send video to the new iMac.