White iPhone 4: Modified Rear Camera, Reports of Thickness Difference Disputed
While much of the attention regarding the long-delayed launch of the white iPhone 4 has died down, a few tidbits of interest continue to trickle out.
Late last week, Japanese blog Mac Otakara pointed to a pair of tweets from @kazunie highlighting some of the differences between the black and white models of the iPhone 4.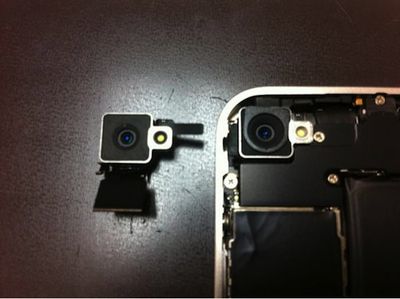 Rear camera of black (left) and white (right) iPhone 4
In particular, Apple seems to have modified the camera sensor in the white version, opting for a slightly different module that likely carries almost identical specs to the one used in the black version. It is unclear, however, whether the change was made specifically to deal with issues related to light leakage reportedly affecting camera performance, one of the more popular targets of rumors regarding the device's delayed launch.
The report also notes that the proximity sensor has been modified in the white models, although no details on the changes are included. The proximity sensor has been one of the chief areas of focus on the device, given Apple's obvious redesign of the iPhone's front plate in the area of the sensor, shifting from a grille of tiny holes in early renderings and samples of the white models to a single black window in the shipping versions.
Reports of the white iPhone 4 being slightly thicker than the black version are also coming under fire, with Apple marketing chief Phil Schiller reportedly sending a response to a customer via Twitter direct message disputing the claims.
It is not thicker, don't believe all the junk that you read
Consumer Reports has also disputed the findings with their own caliper measurements showing identical thicknesses for the black and white models.

Consumer Reports' caliper measurements of iPhone 4 thickness
The thickness difference was of course
confirmed
in an extensive series of caliper measurements taken by
TiPb
last week and by numerous other users examining their own devices and attempting to fit them into cases. Consequently, the difference may be an issue of quality control with some phones exhibiting the difference while others do not, rather than an intentional design change to specify the thicker profile.

Comparison showing white iPhone 4 thicker than black (Source: Engadget
)