White iPhone 4 Slightly Thicker Than Black iPhone 4 [Updated]
Earlier today, a MacRumors reader notified us that the white iPhone 4 is ever so slightly thicker than the black iPhone 4. It's a small difference, but enough that the white iPhone 4 wouldn't fit in his Incase slider case:
Just picked up the white iPhone 4 and realized it doesn't fit into my Incase slider case. It appears that Apple has increased the size of the plastic that borders the glass on both sides by about 1mm.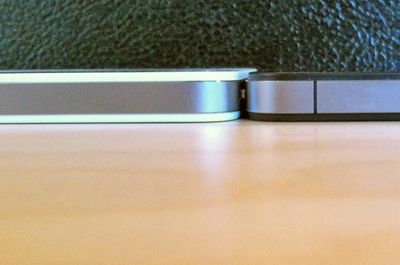 Ryan Cash
of
Marketcircle
discovered the same and noticed it just by picking it up.
A colleague of mine just picked up a 16 GB iPhone 4 in white. I was a bit surprised when I picked it up off his desk (I had my black 32 GB in my other hand at the same time) it immediately felt thicker.
Cash offers some comparison photos (one embedded above) between the white and black iPhone 4 showing the slight difference. The small difference may be enough to affect tight fitting slider cases as evidenced by our reader's experience.
Update: Tipb quantifies the difference at 0.2mm. They tested some cases which seemed fine on both, though only had one slider-design to test.