iOS 4.3.3 Coming Soon to Address Location Tracking Bugs
As part of its comments on the recent iOS location-tracking controversy, Apple acknowledged several bugs in the mobile operating system that have led to more data than originally intended being stored on devices and caused data to be stored even when Location Services are disabled. The company reported that the issues would be addressed in a software update to be addressed "sometime in the next few weeks".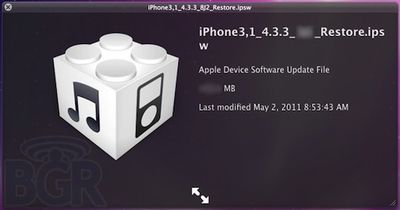 BGR now reports
that that update is indeed on the way, in the form of iOS 4.3.3.
We've been sent the OS and while we haven't loaded it on our iPhone just yet, here is what we have been told it will address:
- The update will no longer back up the location database to iTunes.
- The size of the location database will be reduced.
- The location database will be deleted entirely when Location Services are turned off.
- Battery life improvements.
- iPod bug fixes.
An exact timeframe for a release of iOS 4.3.3 is not known, but BGR has been provided with advance access to the last several iOS releases, and the site's reports on them have generally come not more than a week prior to the public release.