Analysis of Apple's Lawsuit Against Samsung, Includes iOS Device Sales Numbers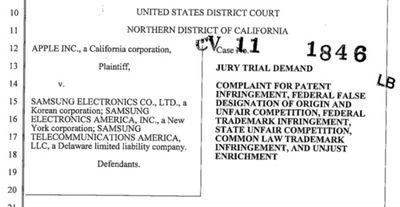 Former
Engadget
editor Nilay Patel lays out a
thorough analysis
of Apple's newly-filed
lawsuit targeting Samsung
for allegedly copying the "look and feel" of iOS devices with its "Galaxy" line of smartphones and tablets. Patel offers an excellent look at the overall lawsuit, as well as a claim-by-claim analysis of each of Apple's sixteen claims against Samsung.
Taken as a group, it feels like a remarkably solid case - Samsung can't just up and countersue Apple with its own patents and hope to walk away with a handshake and a cross-license because of the various trademark, trade dress, and design patent claims. How the company decides to deal with those issues remains to be seen; there's no question in my mind that Samsung designed TouchWiz to look and feel as much like iOS as possible, and then marketed it as such.
The entire report is a solid read for those looking to understand more about how Apple is approaching the issue.
Interestingly, the background portion of the lawsuit also provides total sales numbers for various iOS devices "as of March 2011". Comparing those numbers to known sales as of the end of 2010, asymco's Horace Dediu has calculated minimum unit shipments for the various devices during the first quarter of 2011.
In the lawsuit, Apple variously notes that either "as of" or "by" March 2011, Apple had sold more than 108 million iPhones, over 60 million iPod touches, and over 19 million iPads.
These numbers are material because we know units sold prior to CQ1 and can derive the minimum units sold for these three product lines during Q1.
Namely:
- Total iPhones sold before Q1: 89,971,000 implying a minimum of 18.1 million sold during the quarter (my estimate is 18.4)
- Total iPod touch sold before Q1 (estimated): 55.5 million implying a minimum of 4.5 million iPod touch sold during the quarter (my estimate 5 million)
- Total iPads sold before Q1: 14,789,000 implying a minimum of 4.2 million iPads sold during the quarter (my estimate is 7.3 million).
The question becomes whether the implied level of 4.2 million iPads sold during the first quarter of 2011 is an accurate number, in which case Apple's performance would have fallen well below expectations, or simply an understatement by the company.
Apple is set to announce official figures for the quarter at its earnings release tomorrow. The release should include specific sales figures for the iPhone and iPad, but Apple generally does not issue specific numbers for the iPod touch, instead reporting total sales for all iPod models and then sometimes breaking out a rough share for the iPod touch or stating the device's growth as a means of highlighting its performance on the earnings conference call.